The Nikon Z6 (and its sister Z7) has now been out for just over 10 months and has had one major firmware upgrade in that time, adding functionality and performance enhancements.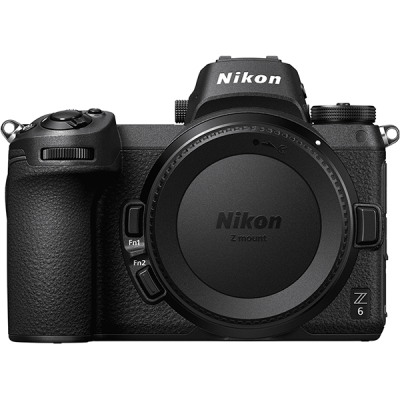 For the past two weeks I have been shooting exclusively with the Z6, provided courtesy of Nikon Professional Services.
There are many purely technical reviews available online providing details of the cameras specifications and offering a range of opinions as to its suitability for various tasks. I even started to read one 'review' only to discover after a few paragraphs that the writer had not actually handled the camera at all but was basing his opinions solely on the published specifications! IMHO technical reports do little to inform the photographer, it is real world, hands-on use that will inform the most.
Specifications
But, for the sake of clarity, here are the technical specifications, although this article is far more about actually using the camera in a real world situation:
Please note I do not include movie specifications here as they do not form part of this review.
24.5 megapixel CMOS sensor, size full frame (FX)
1 x XQD card slot (support for FastCF cards when released)
12 FPS (at full resolution)
ISO 100 – 51,200 (auto ISO available – see more on this below)
3.2: rear monitor (tilting) with touch sensitivity
OLED electronic viewfinder with 100% coverage and eye sensor to automatically switch between rear monitor and viewfinder
Z Mount for lenses. F mount lenses with adapter
Electronic shutter 1/8000 to 30 sec
Autofocus – Hybrid phase-detection/contrast AF with AF assist – 273 (single-point AF)
AF modes –Pinpoint, Single-Point, Dynamic-area AF, Wide-area AF (S), Wide-area AF (L), Auto-area AF (Pinpoint and Dynamic-area AF available in photo mode only)
Vibration reduction – built-in with 5-axis sensor shift
Weight 585g
For complete specs including movie go to – https://en.nikon.ca/nikon-products/product/mirrorless-cameras/z-6.html?
Handling
My first impression on unboxing the camera was wow, this is a lightweight piece of gear. It weighs in at a mere 585g compared to the D850, my current workhorse DSLR, that tips the scales at 915g, body only. Once you add the MB-D18 battery grip to get up to 9fps along with an EL-18c battery you are now up to 1,520g.
The majority of my wildlife work tends to be with long telephoto lenses, primarily the 500mm f4 and 200-400 f4 which are already weighty beasts, so it was a pleasure to be able to reduce the overall weight when walking any distance. However, I did find the lighter weight of the Z6 a real challenge when mounting a super telephoto on my Flexshooter Pro head. It was almost impossible to get a good balance, the rig was constantly forward heavy. Maybe a longer foot on the lens to allow one to shift the balance point farther back would solve this problem.
Hand holding was at first also somewhat challenging. Trying to follow a bird in flight was a very different experience to what I am used to with a heavier DSLR. However, after a couple of days practice I got used to the different balance and by the end of two weeks I was actually getting as many sharp images as with my D50
Which bring us to one of the main questions – is the Z6 good enough all-around as an action camera? My answer is (with some minor reservations), a definitive "YES". I have read reports that have indicated that the autofocus is lacking on accuracy and slower than in the D5 and D850. This was not my experience once I figured out how to set things up for the optimum performance.
In the review below I have concentrated on using the Z6 along with the FTZ adapter, as currently there are no supertelephoto Z mount lenses available.
Autofocus
The Z6 offers a range of autofocus options. The Z6's Single AF mode features a choice of Auto-area, Wide-area (with either small or large focusing areas) and Single-point modes. Single point mode can be further refined to offer pinpoint focusing , which as its name suggests uses a tiny area of the available focus points to achieve a sharp image.
I had been experimenting shooting shorebirds with Single AF with auto area with considerably mixed results, some razor sharp others, well, just not acceptably sharp. Then I decided to try pinpoint, which immediately solved the problem. Just about every image was razor sharp (I accept operator rather than camera error in some cases), and I could put the focus spot directly over the eye of the subject. In addition, in this mode the focus spot turns green when focus is achieved.
Nikon Z6, Nikon 500mm f4 with TC14 converter (effective focal length 700mm) mounted with FTZ adaptor, ISO 900 (auto ISO), 1/2000th @ f5.6. Exposure +0.7 from metered value. Focusing by pinpoint positioned on eye
That's all well and good for fairly static subjects but for moving subjects select AF-C to achieve continuous focus. In this mode you again have the choice of single point (but no pinpoint), wide area small, wide area large, and dynamic which continually tracks your subject as it moves around the frame. I tried all these modes on the Z6 and was pleased to find the accuracy and speed of autofocus little different from my DSLRs.
Nikon Z6, Nikon 500mm f4 with TC14 converter (effective focal length 700mm) mounted with FTZ adaptor, ISO 360 (auto ISO), 1/2500th @ f6.3 Focusing by wide area small.
This is contrary to some other online reports I have read, but, when delving deeper into the negative reports they often share one feature. The tests were done with non-Nikon glass, i.e. independent brand lenses. Does this shed some light on the problem?
My menu settings for the Z6 for autofocus are the same as for my DSLR's.
AF-S priority set to focus
AF-C priority set to release
Autofocus activation set to AF-ON only (I prefer to have the shutter button take the photo and focus with the AF-ON button on the rear of the camera.)
Auto Exposure
Exposure is one of the things that sets a mirrorless camera apart from its DSLR cousins. With the Electronic Viewfinder (EVF) what you see is what you get. In other words as you alter exposure parameters the EVF adjusts to a good approximation of how the final image will be exposed. In addition, you can also set up to see a histogram displayed in the EVF further aiding in exposure.
For much of my photography I am now taking advantage of Auto ISO. With the latest generation of cameras, the Z6 included, high ISO images are not a problem. I have no hesitation up to ISO 1600 where necessary with little or no post-production noise reduction required. Even at 3200 and 6400 an acceptable image can still be produced, albeit with a bit of tweaking in post. I use Capture One 12 for the majority of my post production work.
Auto ISO allows you to set both the desired aperture and shutter speed, and the camera will set an appropriate ISO setting. To achieve this I shoot almost all my wildlife images in manual mode, use the auto ISO setting to select the ISO, and use exposure compensation if necessary to achieve the correct exposure. The beauty of the Z6 is that as you adjust the exposure compensation you can see the effect on the exposure in the EVF.
Shortcomings of the EVF
Whilst on the subject of the EVF and its advantages, this also highlighted my one main reservation with this camera. That was the slight lag for the EVF to turn on as you raised the camera to your eye. For the majority of shooting this was not a problem, but there was more than one occasion when a bird in flight appeared suddenly, and I missed the first, and often critical, opportunity as the bird flew by waiting for the fraction of a second for the EVF to light up.
Once I got the focus point on the subject in the viewfinder the focus tracking locked on with great accuracy, but using the EVF certainly does take a bit of getting used to.
Nikon Z6, Nikon 500mm f4 with TC14 converter (effective focal length 700mm) mounted with FTZ adaptor, ISO 500 (auto ISO), 1/1000th @ f5.6 Focusing by wide area small.
Battery Life
Nikon gives a rating of 340 shots per full charge of the EN-EL 15b battery. I found this to be a gross underestimate of the actual capacity. Most days I shot well over 300 images and still had at least 50% battery remaining. This in spite of the fact that I used the EVF 100% of the time I was shooting, which should, in theory, have more battery drain.
Incidentally, you can use previous versions of the EN-EL battery but these will not charge in-camera via the USB cord.
The single card slot debate
Okay, no review can be complete without mention of the contentious debate around the single XQD card slot. Here is my take – get over it! For the last 10 years I have had Nikon DSLRs with two card slots. In the early days I used the second slot as an overflow, simply because the available cards at that time were low capacity compared to today. Since larger cards became available, I have rarely put a card in the second slot.
How many images have I lost due to this reckless behaviour? Precisely none. I have never had a card fail in camera. Maybe I have just been lucky. I have left cards in pockets that have gone through washing machine cycles, I have left cards in press offices that have 'disappeared' when covering major sports, and have lost more than one when out in the wilds, but I re-iterate, I have never had a card fail in camera. Incidentally I use only Lexar and Sandisk CF cards.
There are two slots available in my Nikon D850, one XQD and one SD. I do not even own a suitable SD card for this camera. I again rely on well-known brands for my cards, for XQD I use Sony and Delkin cards.
Image Quality
In short, image quality is outstanding. After all's said and done, whatever the tech specs of the camera you are using it is the final output that matters. Fine detail is well preserved, even at higher ISOs, with great dynamic range. Colours are accurate (assuming good exposure) which means far less post-production work. However, I did find the Z6 a little less tolerant of exposure mistakes. Making a large exposure correction results in more noise than a similar exposure correction with an image from the D850.
Nikon Z6, Nikon 500mm f4 with TC14 converter (effective focal length 700mm) mounted with FTZ adaptor, ISO 2200 (auto ISO), 1/2500th @ f5.6. Exposure +0.3 from metered value. As you can see even at ISO
All images are shot as raw 14 bit.
I firmly believe that mirrorless cameras are the future of photography and that we will see huge progress in the near future. I don't think I'll ever be buying another DSLR, although I am not yet ready to completely ditch my D850.
The Nikon Z6 will prove to be the perfect second camera for my day-to-day outfit, and, when I want to go lightweight, would be my first choice of body.
Disclaimer
I am not directly connected, nor employed, by Nikon. I am a long-time Nikon user (35years+) and a member of NPS (Nikon Professional Services)